COP27: BASIC nations call out double standards of rich countries, send strong political message | India News – Times of India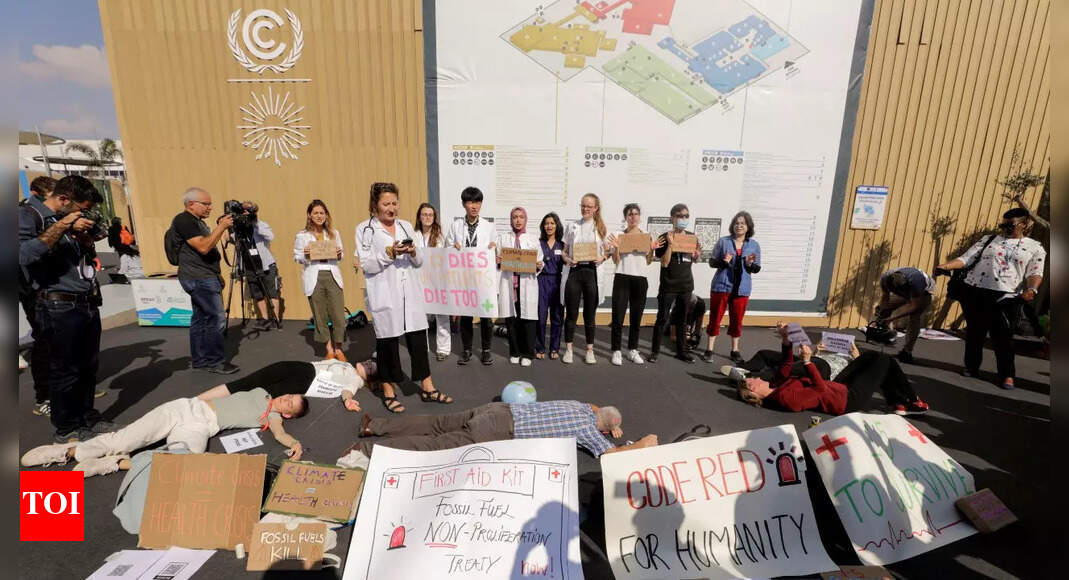 SHARM EL-SHEIKH: Calling out double standards of rich nations, a group of four countries under BASIC – Brazil, South Africa, India and China – at UN climate talks (COP27) has said there has also been a significant increase in the consumption and production of fossil fuels in the past year by developed countries, even as they continue to press developing countries to move away from the same resources.
"Such double standards are incompatible with climate equity and justice," said the ministers of four countries who met late Tuesday to strategize their common stand and send a strong political message ahead of a crucial round of negotiations that may result in the final outcome of the COP27 in the next three days.
"BASIC countries are gravely concerned that developed countries are still not showing leadership or responding with a matching progression of effort. There has been backtracking on finance and mitigation commitments and pledges by developed countries," said their joint statement.
Representing India in the meeting, the country's environment minister Bhupender Yadav said that the developed countries must back their promises by actions. "One pledge after another, with several such pledges per COP, are not necessarily fruitful. Measuring progress through actions that then lead to direct emissions reduction – this is what the developed countries ought to demonstrate to the world."
Underlining India's stand that also got backing from certain quarters including even the European Union (EU) at the climate talks, Yadav in his intervention said, "In climate action, no sector, no fuel source and no gas should be singled out for action. In the spirit of the Paris Agreement, countries will do what is suitable as per their national circumstances." His remarks come as a clear message that the mitigation debate should not just be around coal but around all fossil fuels including oil and natural gas.
BASIC ministers during their meeting also reiterated their support for Pakistan, as the current Chair of the Group of 77+China, with a view to strengthening the unity of both the groups for advancing the common interests of developing countries. The G77+China group, including India, is the largest and most diverse coordination platform in the multilateral arena.
The BASIC ministers during the meeting also expressed their concerns over the issue of finance, saying climate finance provided by developed countries continues to fall short of the $100 billion per year commitment, as it has every year since the goal was set in 2009, and despite the deep regret expressed at COP26 in Glasgow, UK last year.
"This is despite the $100 billion being only a tiny fraction of the financing which will be necessary for an economy-wide transformation and to meet the needs and priorities of developing countries. Developing countries, and especially the BASIC countries, have to channel many times this amount of financing from their domestic resources or from commercial loans and developing countries cannot afford to transform their economies without assistance," they said.
Developing countries, including India, had last week during high-level ministerial dialogue flagged that they would need $6 trillion to $11 trillion to meet their climate action targets.
"The new collective quantified goal by developed countries must therefore go beyond the floor of $100 billion per year, be significantly public funded with greater transparency and predictability," said the BASIC ministers. They called for a balanced approach towards mitigation and adaptation in light of evolving needs and priorities of developing countries.
Expressing concern that adaptation is still not being accorded the balanced and substantive attention they deserve in the UNFCCC process, despite the opportunities and linkages with loss and damage, they said, "It is essential to maintain a systematic and continued process to work on the Global Goal on Adaptation (GGA), with a view to fully operationalising the GGA."
Yadav during his intervention flagged the concerns over focus on mitigation (emission reduction). He said, "This COP has been rightly called the COP of implementation. As BASIC countries, we have always been for action. Unfortunately, promises, either for 2030 or 2050, have been the dominant narrative that developed countries have sought to establish.
"At this COP, we have been active in promoting action in key areas of relevance particularly to the majority of the vulnerable populations of the world. Adaptation and loss and damage have been of particular importance to us in this regard. But the focus is always on mitigation, in one way or the other."
The BASIC ministers in their joint statement emphasised that the Mitigation Work Programme must be guided by the objectives, goals and principles of the UN Convention and its Paris Agreement, being facilitative, non-prescriptive, nationally determined in nature, and aim at promoting exchange of best practices, exploring opportunities, and identifying challenges on implementation of their respective climate action targets – called nationally determined contribution(NDCs).
"The Mitigation Work Programme shall not result in an alteration of the goals as set out in the Paris Agreement, imposing sectoral targets and benchmarks, or duplication with arrangements regarding mitigation," said the ministers.
They also said that the developed countries must honour their Pre-2020 commitments regarding mitigation, adaptation and means of implementation and support provided, without transferring any burden and responsibility to developing countries. "Developed countries are required to take immediate actions to close the Pre-2020 implementation gaps," they said.