Josh Hazlewood 'fit and available' for WTC final against India, Ashes | Cricket News – Times of India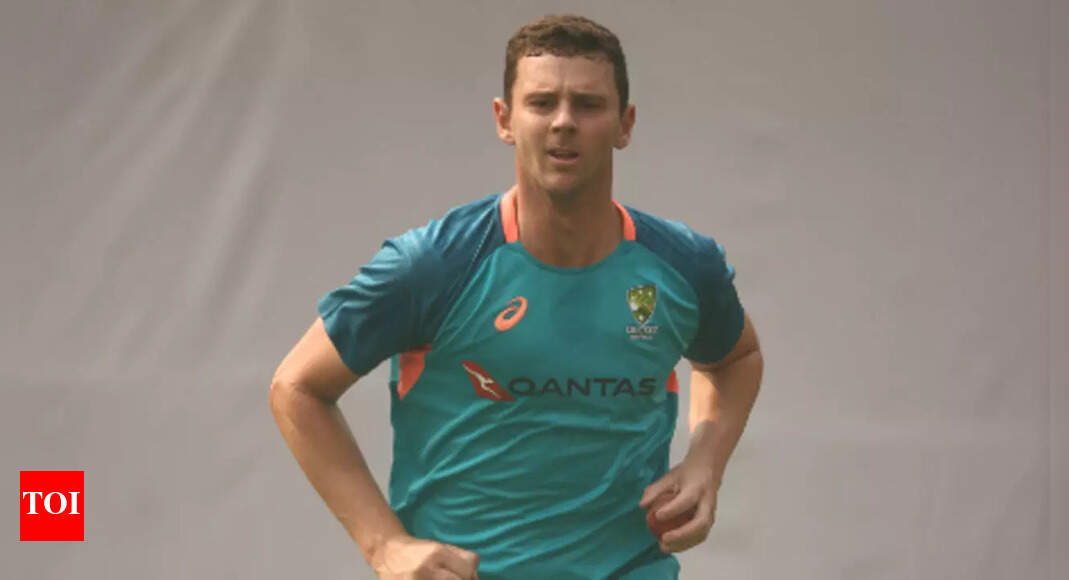 NEW DELHI: Australia's seasoned pacer Josh Hazlewood was on Monday declared fit and available for the World Test Championship (WTC) final against India and the following Ashes series against arch-rivals England.
Hazlewood, who represented Royal Challengers Bangalore in the ongoing IPL had returned to Australia a couple of weeks back after reporting a 'minor side soreness'.
However, Cricket Australia has now confirmed that the 32-year-old is fit to travel to England for the upcoming international assignments.
The WTC final is scheduled to be held at the Oval in London from June 7-11, which will be followed by the five-match Ashes from June 16 to July 31.
"Josh Hazlewood returned home from the IPL last weekend after experiencing minor side soreness after the completion of his most recent IPL match," a CA spokesperson said.
"After a brief and precautionary rest period, Hazlewood returned to high intensity bowling last week and will continue to increase his bowling workloads in preparation for the WTC and Ashes series. Hazlewood is considered fit and available for the WTC and Ashes Series."
In a relief for the pacer, scans have revealed no damage as he returned to bowling ahead of the Australian squad's departure for the UK.
Hazlewood played the last of his three games for Royal Challengers Bangalore on May 9 and bowled a total of nine overs in the ongoing IPL from which his team was knocked out by Gujarat Titans following a six-wicket loss in Bengaluru on Sunday night.
Known for his accuracy and often compared to the legendary Glenn McGrath, his presence will be a huge boost for the Australian bowlers when they go up against the the likes of Virat Kohli, Rohit Sharma and Cheteshwar Pujara at the Oval.
The experienced Hazlewood has battled injuries over the last two years and had a four-month layoff from bowling to recover from an Achilles issue sustained in the Sydney Test in January.
Bought for Rs 7.75 crore by RCB during the 2022 IPL auction, Hazlewood has missed games with side strains over the last two home Test summers and suffered the Achilles injury during the SCG Test against South Africa in January.\
Hazlewood's return to cricket during the IPL was also delayed thanks to the injury, with the pacer only featuring in his first match halfway into the tournament.
(With inputs from PTI)