'Vast majority' of opposition parties to meet soon: Congress after Bihar CM Nitish Kumar meets AICC chief Mallikarjun Kharge | India News – Times of India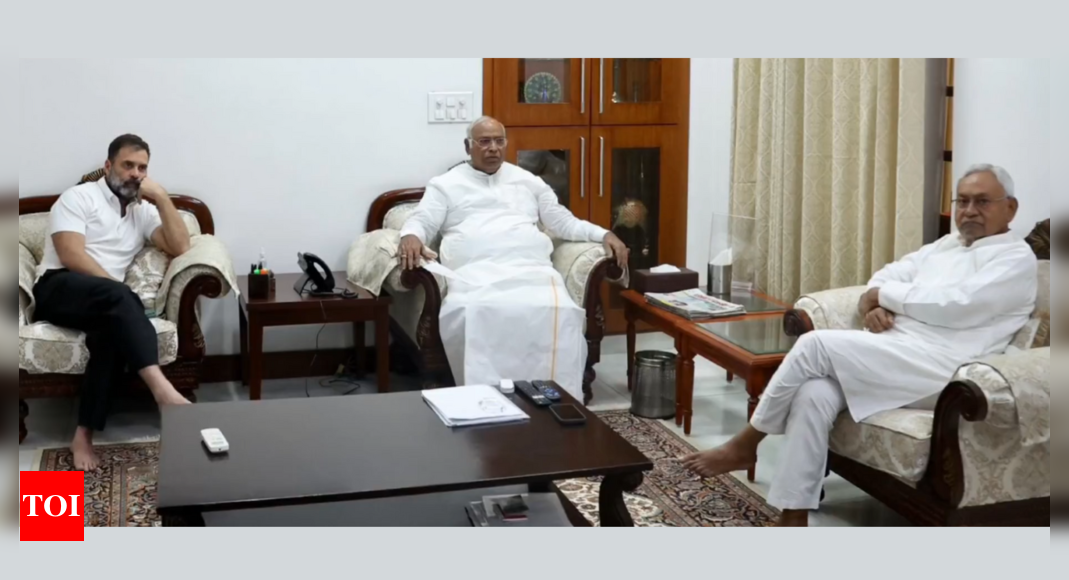 NEW DELHI: The Congress on Monday announced that leaders of several opposition parties would be meeting "in a day or two" amid renewed efforts to forge unity in the opposition ranks ahead of the 2024 Lok Sabha polls.
The announcement was made by Congress general secretary (organisation) K C venugopal, moments after Bihar chief minister Nitish Kumar met AICC chief Mallikarjun Kharge and former president Rahul Gandhi in New Delhi.
"A vast majority of non-BJP parties will meet soon … the venue and date of the expected meeting will be announced in a day or two," Venugopal told reporters.
In a tweet, Kharge said, "The country will be united now. The strength of democracy is our message. Rahul Gandhi and myself discussed the current political situation with Bihar Chief Minister Nitish Kumar today and took forward the process of giving a new direction to the country."
Kumar was accompanied by his Janata Dal (United) president Lalan Singh.
Bihar CM, Kharge chalk out roadmap
During his second such meeting in the last one and a half months, Nitish Kumar, Kharge and Rahul Gandhi reportedly discussed a roadmap for strengthening opposition unity and a possible meeting of opposition leaders in Patna.
Nitish on unity front
On the back of its recently poll victory in Karnataka, a resurgent Congress has set its sight on defeating the BJP in the general elections by forging an opposition front.
Of late, the Bihar CM has been leading the charge to gather non-BJP parties.
After holding a meeting with Kharge last month, Kumar met leaders of a host of regional parties in his bid to bring them together on one platform with the Congress to take on the BJP in the 2024 Lok Sabha polls.
The JD(U) leader had also met AAP convenor and Delhi CM Arvind Kejriwal on Sunday and extended "complete support" to him in the ongoing face-off with the Centre over the control of administrative services.
The Bihar CM was among many opposition leaders that were invited for the swearing-in ceremony of Karnataka CM Siddaramaiah.